What Is Floating Floors vs Solid Wood, Which One Is Right For Me
As experts in interiors, many people ask us, "What is floating floors?". The quick answer is that a floating floor is just another name for engineered timber floors. It is constructed by layering multiple pieces of wood together, with the top layer comprising durable hardwood.
When people talk about floating floors, they refer to the installation method because it is 'floating' on the subfloor. The floorboards are not directly attached to the floor underneath. Instead, the floor layer installs them by interlocking the individual planks to form a stable and durable base.
Floating floors are floating on the subfloor
This installation method allows the flooring to expand and contract with changes in temperature and humidity without causing any damage or warping to the floorboards. The floating installation method also makes it easier and more cost-effective, eliminating the need for adhesives or nails to secure the flooring.
Video – what is floating floors vs solid timber
If you're trying to decide whether to choose a floating floor or a solid timber floor, watch this short video, which explains the pros and cons of each.
Distinguish between floating floors vs solid timber
When choosing between floating floors and solid timber, it's essential to consider the benefits of each option.
Solid hardwood describes timber that consists of a single solid piece of wood all the way through, as shown in the picture below. It consists of solid timber without any interfering layers.
In contrast, a floating floor, also known as engineered timber, comprises multiple layers of wood. The lower layers typically consist of lower-grade timber, while the top layer shows the beautiful wood visible in your home.
Solid Hardwood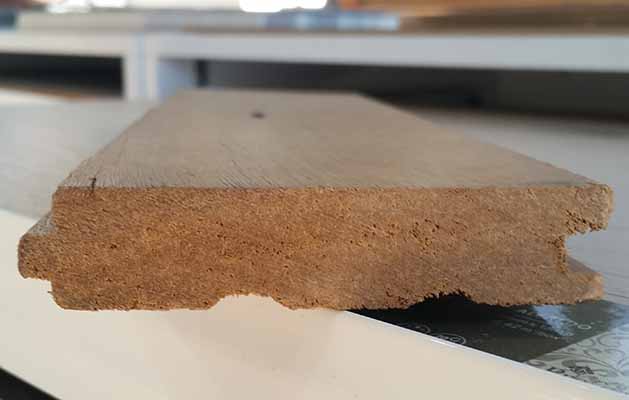 Wearability of solid hardwood floors
When your solid hardwood floor shows wear and tear a couple of years into the future, you can sand it back, subsequently exposing the undamaged timber below. Then add a new sealer on top, and your floor will look like new again.
How to install a solid timber floor
Unlike floating floorboards, a solid hardwood floor needs a foundation underneath for support. As shown below, this subfloor can be constructed with timber joists.
Subfloor may raise the floor level
Installing joists to support a solid hardwood floor will raise the overall floor level of your space. While this is not a major issue when building a new house, it can be more challenging when you renovate an existing space. With a renovation, you'll need to consider the impact on your existing doors, which you may need to trim to adjust to the new flooring height. With floating floorboards, however, you don't need a subfloor, making them an excellent alternative for home renovators.
Australian hardwood species
For many homeowners, the go-to product is Australian hardwood timber when choosing solid timber floors. Popular species are:
Blackbutt
Brushbox
Ironbark
Sydney Blue Gum
Spotted Gum
But there are many other species to choose from. For example, look at Australian Sustainable Hardwoods, one of the large suppliers in Australia.
Overview of what is Floating Floors vs Solid Wood
Floating Floors
Solid Wood
What is it?
A thin layer of timber attached to a base of plywood or composite
Solid hardwood timbers planks made of wood
Attributes
Long-lasting, hard-wearing
easy to maintain, can scratch, requires subfloor
Long-lasting, hard-wearing
easy to maintain, can scratch, requires subfloor
Types
Overseas timbers such as European Oaks, but also Australian hardwoods, such as Blackbutt
Australian hard woods, such as Blackbutt, Jarrah, Ironbark, Spotted Gum
Est Price per m2
$100 – $250 supply and install
$220 – $315 supply and install. Add cost for subfloor construction.
Installation
Can be nailed or glued down. No need to sand back after installation.
Requires subfloor (e.g. plywood, joists or existing timber floor). Can be nailed down over existing floor. Sand back after install.
Usage
Ideal flooring for a house renovation, new constructions, units and high-quality rentals. Can cover all indoor areas except bathroom and laundry,
Ideal for new constructions as the height of the subfloor can be factored in from the beginning. Can cover all indoor areas except bathroom and laundry.
Sustainability
Renewable source that can be recycled. Choose certified timber (e.g. FSC) from sustainably managed forests and eco-friendly glue and finish.
Renewable source that can be recycled. Choose certified timber (e.g. FSC) from sustainably managed forests and eco-friendly glue and finish.
Comments
Ideal flooring for a house renovation. Can be sanded back 1 – 2 times.
Ideal flooring for a new house construction. It can be sanded back numerous times.
Floating Floors
Let's shed some light on floating timber floors. After all, they are my preferred option for home renovations for a much smoother transition and factoring.
Many options with floating floors
Sometimes, people mix up floating floors with laminate. But laminate is a different medium altogether. Floating floorboards consist of natural timber, which gives you plenty of finishing options. You can choose beautiful Australian species timber as well as imported timber such as walnut or oak.
Cost of floating floors vs solid hardwood floors
Solid timber flooring costs roughly $220 to $315 per square metre, including supply and installation. It's not a cheap option, but it may well be worth it for its beautiful look and wearability.
On the other hand, floating floorboards cost roughly $100 – $250 per square metre, including supply and installation.
Can floating floors be sanded?
Against the common perception, floating floors can also be sanded back and resealed, just not as often as solid hardwood floors due to their thinner layer on top.
Consider bamboo, vinyl, laminate and hybrid flooring
If you believe timber flooring is not for you, there are other flooring options to consider. You can also choose to go with the timber look. Popular options include bamboo, laminate, vinyl, hybrid and even tiles to achieve the timber look without (hardly) any wood.
If you want to get some inspiration for your next renovation project, have a look at some images of our completed work.
Engineered timber flooring vs solid: comparison table
We have collated a comprehensive table that compares floating timber with solid timber and timber-look flooring. See at a glance the advantages of each of these flooring options. You can download this table for free by typing your name and email below.