Engineered vs solid hardwood timber floors in your home
What is not to love about timber floors? Timber is long lasting, hard wearing while bringing natural texture into our homes. The question to ask yourself though is do I want engineered or solid hardwood timber floors. It's a question of engineered vs solid hardwood.
Solid timber vs engineered timber floor
If you're trying to decide whether to choose a solid timber floor or an engineered timber floor, watch this short video, which explains the pros and cons of each.
Distinguish between engineered vs solid hardwood
Solid hardwood is the term given to timber that is the same solid piece of timber all the way through e.g. spotted gum (below) is solid timber throughout with no interfering layers. There is no other wood mixed, whereas engineered hardwood also known as a floating floor refers to timber that has been made up of various layers, lower grade timber on the bottom and beautiful timber as the top layer that you see.
Solid Timber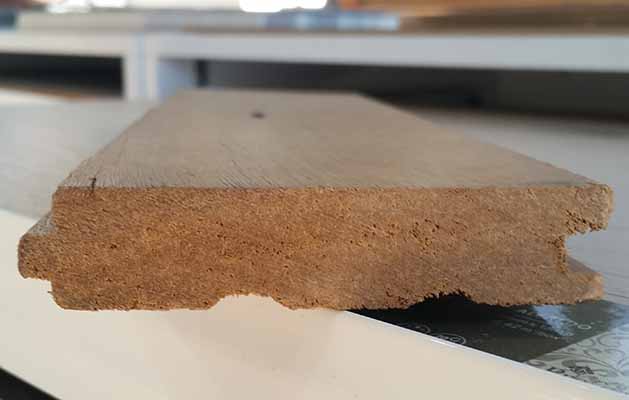 Wearability of solid timber floors
When your solid timber floor shows wear and tear a couple of years into the future, you have the ability to sand it back, therefore exposing the undamaged timber below. Then just add a new sealer on top and your floor will be like new again.
How to install a solid timber floor
A solid timber floor needs a floor underneath for support. This subfloor can be constructed with timber joists.
Subfloor may raise floor level
Joists will raise your overall floor level. That is not a big deal if you're constructing a new house because you can factor that in right from the beginning. But it's a tricky thing when you are renovating as you'll need to cut the bottom of your doors to adjust to the new flooring height.
Australian hardwood species
For many soon to be home owners the go to product is Australian hardwood timber when deciding on their solid timber floors. Popular species are:
Blackbutt
Brushbox
Ironbark
Sydney Blue Gum
Spotted Gum
But there are many others to choose from. Have a look at Boral who is probably the largest supplier of Australian hardwood floors around.
Engineered timber floor
Engineered timber floor for renovators
Let's shed some light on engineered timber floors. They are my preferred option when it comes to home renovations for a much smoother transition and factoring.
Many options with floating floors
Don't get mixed up with laminate. Engineered timber is real timber, laminate is a different medium altogether. With engineered timber you have many options You can choose beautiful Australian species timber as well as from imported timber such as walnut or oak.
Cost of engineered vs solid hardwood floors
Solid timber flooring cost roughly $180 – $260 per square metre, including supply and install. It's not a cheap option, but it may well be worth it for its beautiful look and wearability.
On the other hand, engineered timber cost roughly $100 – $200 per square metre including supply and install.
Consider bamboo, vinyl and laminate
If you believe, timber flooring is not for you, there are other flooring options to consider. You can also choose to just go with the timber look. Popular options include bamboo, laminate, vinyl and even tiles to achieve the timber look without any wood.
Don't hesitate to contact me via email martina@martinahayes.com.au or phone 0434 498 450. Or feel free to use this contact form.
Engineered vs solid hardwood comparison table
To see how timber and timber look flooring may work for you, have a look at my comprehensive table I've compiled for you.
You can download this table for free. Simply type in your name and email below.